We Offer The Following Classes:
Stitch & Chat
Exciting News Stitch & Chat is Returning
We are thrilled to announce that Stitch and Chat will be returning in May.   Gretchen will be running the table on Thursdays & Saturdays and Stephanie will be returning to run the table on Fridays.  While we are sure everyone will be excited to hear this, there will be a few rules that need to be followed.  In light of the fact that the entire staff will not be vaccinated against Covid-19 these are the precautions we will be taking:
Masks are mandatory.
There is a limit of four stitchers at a time at the tables.
No food or beverages.
Limit of two hours in the store.
We respectfully request that you do not attend Stitch & Chat if you are feeling any symptoms, have been exposed to Covid-19 or have traveled until you have quarantined for 10 days.
Stitch & Chat will be held on the following dates from 10:30 to 12:30:
Saturday, May 1, 8, 22 & 29 (no session on May 15)
Thursday, May 6, 13, 20 & 27
Friday, May 14, 21 & 28 (no session on May 7)
So that we can accommodate as many stitchers as possible we request that you only sign up for one Stitch and Chat per month.  We will be accepting reservations on a first come first serve basis for the May Stitch & Chats beginning on April 1.   We will have a wait list in case someone cancels.
Stitch & Chat will be a time to get assistance with threads and stitches and to work on your projects.  Stitch & Chat is complimentary.
We will still be taking appointments should you need assistance with pulling threads or finishing so please be sure to schedule an appointment with the shop.  Please remember to wear your mask when you come to your appointment.
Slowly but surely, we are sure that as the months pass, we will be able to relax some of the restrictions.
Beginner Class
Our popular Beginner's Class is perfect for the novice stitcher or the stitcher who has not gone beyond the basic stitch.   You will learn 10 new stitches that you will be able to use in your future projects.
One of our staff members will teach this three-session class. Participants will receive a line-drawn canvas for the sampler with your initial, threads and stretcher bars.  The design area is 6″ by 6″ and is drawn on #13 mesh canvas.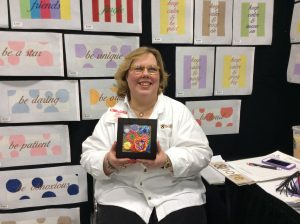 Canvas Embellishment Class with Julia Snyder – Rescheduled to September 2022!
Ridgewood Needlepoint is pleased to announce that national needlepoint teacher Julia Snyder will coming in September 2022!
Julia will be teaching her Canvas Embellishment Class, and she'll suggest creative stitches to make your canvas come to life.   This will be 2-one day classes, you bring a canvas that will be a challenge and has a variety of different spaces for Julia's creative stitches.  Julia uses a variety of stitches, threads, ribbons, techniques and beading.  She doesn't write a stitch guide, but works with the stitchers to get much of the canvas covered.
Here are the details:
Dates:  TBD
The class will cost $175 per day with special price for a student that wants to join us for both days of $275.  Please call the store to sign up and we will need a deposit of $75.
We do ask that you purchase the canvas at Ridgewood Needlepoint, we are happy to order a canvas if we do not have your dream canvas in stock.   To ensure that Julia has plenty of time with each student, the class is limited to 12 students, so first come first serve so sign up today!
To sign up please call the store at (201) 612-7770 or e-mail us at [email protected].
Here is how Julia describes the class…
'If your canvases are not becoming to you, you should be coming to my live stitch guide class!"
I believe that we should be working on pieces that make us happy. Life is too short to be stitching and be unhappy doing it. So, with this class my objective is to teach new techniques, introduce new products, and inspire more stitching.
The Live Stitch Guide class is a bit different since each student is working on their canvas of choice. A formal stitch guide can be written for the piece, or the stitcher can bring the piece or pieces, depending on the size, and we will work out the threads and stitches for the piece.  I will hand out numbers as everyone gets to class and offer help in that order.  I do try to work with everyone by lunch time.
By the end of the class each stitcher will have at least 50% of all the threads and stitches worked out, now of course this depends on the size of the piece.
SPRING IS HERE!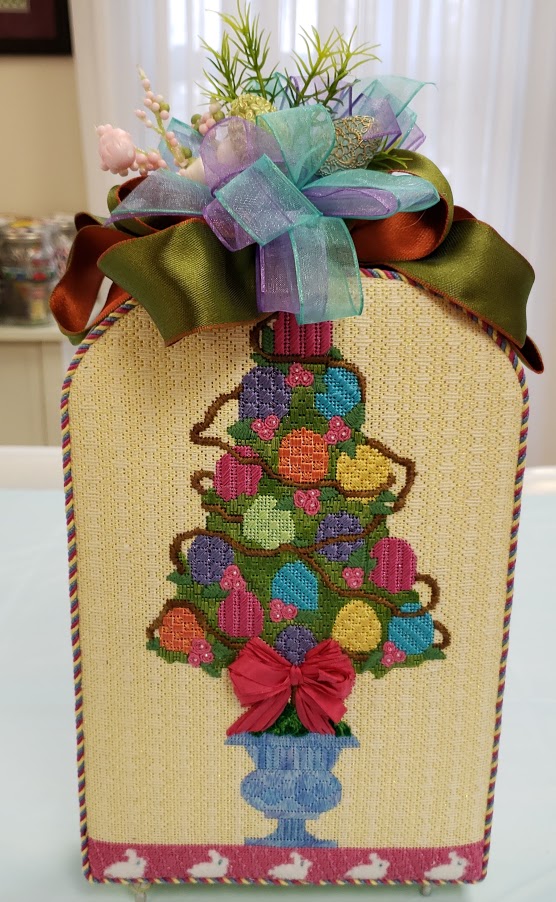 We are excited to announce that Gretchen will be  teaching the Pepperberry "Easter Egg Topiary" class.
The class will be limited to 4 students.  Classes will be held on Saturday's, April 10, April 24 & May 15 from 11:00 am to 1:00 pm.
The cost of the class will be $288 which will include the  canvas, thread kit & the 3 classes.  In the event the class fills up you can purchase the   canvas & thread kit for $228 and  receive a complimentary copy of the stitch guide.
Call the shop at (201) 612-7770 or send an e-mail to       [email protected] to reserve your spot.