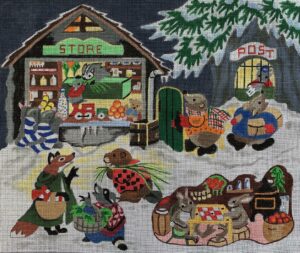 Staff Pick Wednesday – Winter Scene
For today's staff pick we have this whimsical winter scene.  This canvas will definitely be a lot of fun to stitch.  Some ideas that come to mind is to possibly felt some of the animals.  For the snow check out our blog post with suggestions for snow from November 23rd.  An over-dyed thread using the Knotted Stitch would be great for the tree trunk.  Do the T-Stich using a metallic thread for the sky.  Need more ideas?  We will be glad to help.
The canvas is on sale today for $187 originally priced at $233. Give us a call if you would like to add this canvas to your stash.