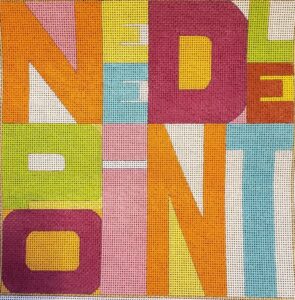 I thought I would add a twist to the usual New Stitch Monday.  I purchased this Raymond Crawford canvas not really knowing what I was going to do with it.  I thought I would have it attached to a tote but I already made 3 or 4 of them and that's not counting the other 10 or more totes I already have.   As I was looking at it, I came up with the idea to only use stitches I have never done before for each letter.  Then I decided I would put it in a Lucite tray and use it to hold the threads while I am working on one of my current projects.   Now I had a purpose.
Starting with the first letter "N" I tried the Cameo stitch.  I used 4 strands of Splendor #978 for the Double Hungarian stitches shown in orange on the diagram.  If your canvas is 13 count you would use 6 strands.  For the Elongated Cross stitches, I used Neon Rays N83 shown yellow on the diagram.  For the accent stitches I used Neon Rays Plus NP83 shown pink on the diagram.
If you have this canvas and want to work along with me, I will introduce a new stitch for the next 11 weeks.  Knowing me, I will most likely just Tent stitch the areas in between the letters.   For those interested in purchasing this canvas please contact the shop by calling (201) 612-7770 or by sending an e-mail to [email protected]  The canvas # is HO 2066 and it comes in 13 or 18 count.
Come along for the ride!
Happy Stitching – Stephanie