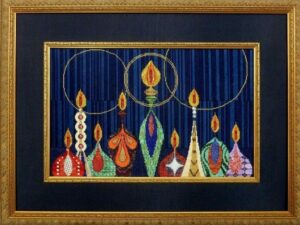 Wishing all our friends who are celebrating a very Happy Hanukkah.
Now is a great time to start planning and stitching your Hanukkah decorations for next year.  We have 2 of Kate Dickerson's Menorahs that when finished magnets are place behind the flames on the canvas as well as behind the individual flames making these interactive menorahs as well as family heirlooms.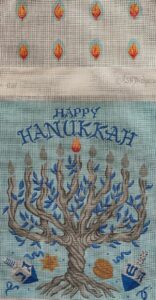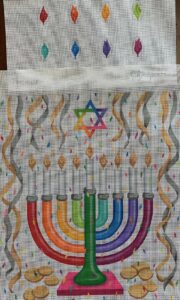 The multi-colored menorah is on sale for $326.
The Tree of Life menorah is on sale for $255.
We also have several of the Needle Deeva Dreidels on sale for $57 each.
Please note that if you purchase the threads for the dreidels, we will give you a complimentary stitch guide.
The menorah pictured above is by Tapestry Fair and stitched by Stephanie.
If you are interested in ordering the canvas please contact the shop.  There is a stitch guide for that canvas as well.