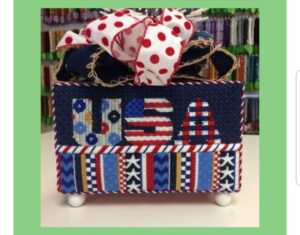 USA – Associated Talents – Stitch Guide by Gretchen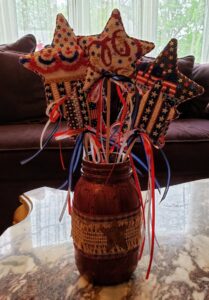 Patriotic Stars – Associated Talents  – Stitch Guide by Stephanie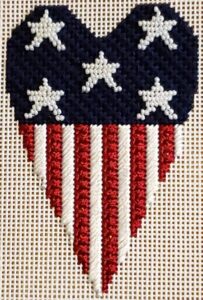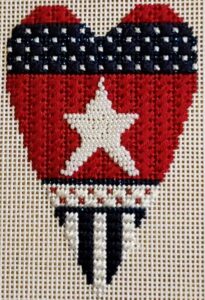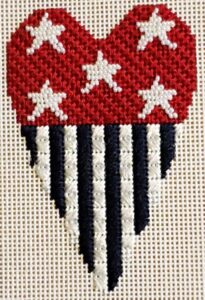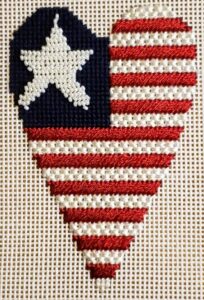 "Patriotic Heart" Club 2020 – Stitch Guides by Stephanie
(Sorry – Because of Covid 19 we didn't get the finished products back in time for the 4th of July)
We have one set in stock of Needle Deeva's "Patriotic Heart" Club 2020.  The club includes 4 hearts.  With your first shipment you will receive one heart, the introduction guide, the stitch guide for that heart, along with the complete thread & bead kit for all 4 hearts.
You will be charged $119 plus shipping for the first heart.  For the next 3 months you will be sent a heart & the stitch guide.  For shipments 2 & 3 you will be charged $55 plus shipping and you will receive the final heart at no charge.  In addition, there is no charge for the finishing of one of the hearts.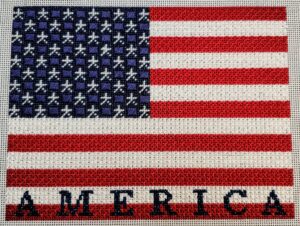 To enhance your hearts, why not add this Patriotic Flag also designed by Needle Deeva.  The flag measures 7 ½ x 6 (18 mesh).   If you purchase the Heart Club you will receive a 20% discount on the canvas & threads which will cost $100.  You will also receive a 20% discount on the flag finishing.  If you choose you can purchase the flag & thread kit separately for $132.00.