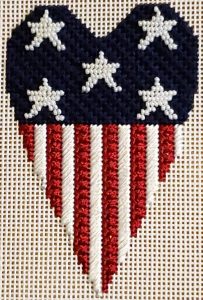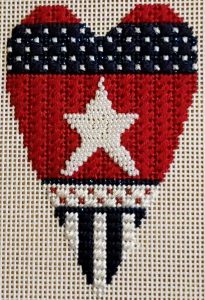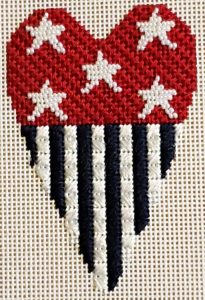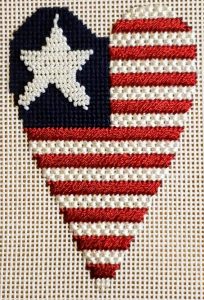 Introducing Ridgewood Needlepoint's "Patriotic Heart" Club 2020
We invite you to join our new Patriotic Heart Club.  The club includes 4 hearts designed by Needle Deeva.  With your first shipment you will receive one heart, the introduction guide, the stitch guide for that heart, along with the complete thread & bead kit for all 4 hearts.
You will be charged $119 plus shipping for the first heart.  For the next 3 months you will be sent a heart & the stitch guide.  For shipments 2 & 3 you will be charged $55 plus shipping and you will receive the final heart at no charge.  In addition, there is no charge for the finishing of one of the hearts.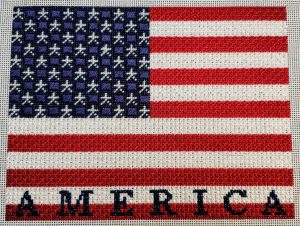 To enhance your hearts, why not add this Patriotic Flag also designed by Needle Deeva.  The flag measures 7 ½ x 6 (18 mesh).   If you purchase the Heart Club you will receive a 20% discount on the canvas & threads which will cost $100.  You will also receive a 20% discount on the flag finishing.  If you choose you can purchase the flag & thread kit separately for $132.00.
There are many ways that you can finish the hearts.  One way is to finish them as Hearts on a Stick and display them in the flag if you have it finished as a cylinder.  They can also be finished as ornaments or a garland.  How will you finish them?
If you are interested in joining the Heart club and/or adding the flag, please call the shop at (201) 612-7770 or send an email to [email protected] com.