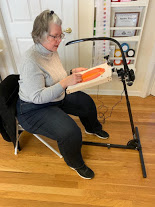 Weekend Sale – System 4 Travel-Mate Floor Stand with Frame Clamp & Extras
We have a System 4 Travel-Mate Floor Stand with Frame Clamp, Light & Magnifier Holder & Stella light on sale this weekend for $350.00.  Regularly this complete set goes for $450.00.
Using the System 4 stand takes the stress off of holding your canvases in your hand.
Travel-Mate Floor Stand Facts
Perfect for sitting in your favorite chair or sofa.
Folds for easy storage.
Weighs just 4.5 lbs.
Adjusts to any angle
Fits under most furniture
The Travel-Mate works the same as the Floor Stand except for a telescoping feature that makes it very easy to carry.
Fits into most luggage.
Frame Clamp Facts
This easy-to-use clamp holds traditional stretcher bar frames firmly.
The Frame Clamp opens up to 1 1/4″ to accept most frames. The Jaws hold frames firmly without damaging fabric.
Weighs only 1 lb.
Rotates 360 degrees
The Stella Light Facts
The lamp features five stages of dimming and Tri-Spectrum Technology allowing for three different light spectrums.
Uses ultra-efficient LED technology which produces more light and virtually no heat.
The lamp attaches to the System 4 Light & Magnifier Holder
If you are interested in purchasing this set please give the shop a call at (201) 612-7770 or send us an email to [email protected].