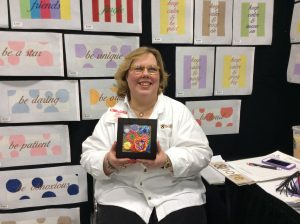 Canvas Embellishment Class with Julia Snyder
Ridgewood Needlepoint is pleased to announce that national needlepoint teacher Julia Snyder will coming in September 2020!
Julia will be teaching her Canvas Embellishment Class, and she'll suggest creative stitches to make your canvas come to life.   This will be 2-one day classes, you bring a canvas that will be a challenge and has a variety of different spaces for Julia's creative stitches.  Julia uses a variety of stitches, threads, ribbons, techniques and beading.  She doesn't write a stitch guide, but works with the stitchers to get much of the canvas covered.
Here are the details:
Embellishments classes are Saturday, September 26 and Sunday, September 27th from 10 AM until 4 PM.
The class will cost $175 per day with special price for a student that wants to join us for both days of $275.  Please call the store to sign up and we will need a deposit of $75.
We do ask that you purchase the canvas at Ridgewood Needlepoint, we are happy to order a canvas if we do not have your dream canvas in stock.   To ensure that Julia has plenty of time with each student, the class is limited to 12 students, so first come first serve so sign up today!
To sign up please call the store at (201) 612-7770 or e-mail us at [email protected].
Here is how Julia describes the class…
'If your canvases are not becoming to you, you should be coming to my live stitch guide class!"
I believe that we should be working on pieces that make us happy. Life is too short to be stitching and be unhappy doing it. So, with this class my objective is to teach new techniques, introduce new products, and inspire more stitching.
The Live Stitch Guide class is a bit different since each student is working on their canvas of choice. A formal stitch guide can be written for the piece, or the stitcher can bring the piece or pieces, depending on the size, and we will work out the threads and stitches for the piece.  I will hand out numbers as everyone gets to class and offer help in that order.  I do try to work with everyone by lunch time.
By the end of the class each stitcher will have at least 50% of all the threads and stitches worked out, now of course this depends on the size of the piece.
Julia's bio:
Julia Snyder grew up in her local needlepoint store where her mother, Patsye Hardin, worked. She started stitching at the age of 4 and has not stopped since. Julia has won awards in the State Fair of Texas as well as ANG. She has also designed and taught classes for ANG, EGA, Needlepointers, Destination Dallas Market, and TNNA Market. Julia has also been involved in judging at the State Fair of Texas for several years and been a part of the Beaux-Arts Auction at the Dallas Museum of Art. She has been teaching for the past 22 years, since she and her mother opened Key Stitches, which closed in 2009. Along with stitching and teaching, Julia stays busy writing stitch guides for designers and clients. Her books have been a huge success as well as her traveling and teaching all over the USA. Her books include the following: 176 Amazing Stitches, Backgrounds and Such, Categories for Needlepoint, Darn Fillings, Everything Blackwork is New Again, First Stitch First, Great Layers, Have Stitch Will Travel, iBargello, Just Stitches I Use, Keys to Canvas Embellishment, and Love It or Rip It. Along with writing her books, Julia and her husband, Mickey Snyder, own & more, a wholesale needlepoint company where she designs and paints canvases. Along with the canvases they carry 8 lines of threads, 5 types of beads, and beading thread that comes in 36 colors. After closing Key Stitches, Julia has taught from Portland Oregon to La Jolla Ca to Montgomery Alabama to Atlanta Georgia to Baltimore and many points in between. For the past 4 years Julia has helped Leigh from The Needle Bug in Montgomery run The Bug Boutique in Callaway School Needle Arts, and the past 2 years has taught her 4-day embellishment class at Callaway Garden School of Needle Arts. Julia has also been Assistant Director of CANVAS, a needlepoint adventure beginning 2018. Julia continues to teach all over the USA.
Join us for a day of learning and fun!